Can't find what you're looking for? Try a search!


---
The Solo Bookstore is an Amazon.com associate.
Amazon.com has agreed to ship books and provide customer service for orders we receive through special links on The Solo Bookstore.
Thank you for shopping with an Amazon.com associate.
Webmistress's Note: To order, click on the title or image of the book or CD.

---
Books and More
·
SheetMusic & Scores
·
DVDs
·
ComputerGames
·
Audiobooks
·
BookBargains
---

The Silent Strength of Stones
by Nina Kiriki Hoffman

It is a season of many wonders, with many secrets ripe for discovering ... and some best left in shadow, unexplored. Summer has come to Sauterelle Lake. And inquisitive young Nick is discovering many things he doesn't want to know: About a pretty girl with hypnotic eyes who talks to his soul ... About a wild creature -- a wolf -- whose features shine with an intelligent, un-lupine knowing... About a strange, inhospitable family occupying a cabin that is meant to be empty. This summer, nature's magic is not the only sorcery traveling on the wind. And the real trick will be surviving until the autumn.
---

The Stars Dispose
by Michaela Roessner
(hardback edition)

Catherine de Medici, a member of the powerful Medici family of Florence, finds herself and Befanini, a servant linked to her by destiny and magic, caught up in a war for the possession of Florence.
Also in the Soft Cover Edition
---

PANDORA- Anne Rice
Anne Rice has done it again! PANDORA is the beginning of a new series, but at the same time is a continuation of the Vampire Chronicles. In this book, we meet Pandora, and learn of her first meetings with Marius, when both were still mortals. We follow her through her mortal life, learning much about Marius along the way, with tantalizing bits of information about Lestat, Armand, and many of the other characters we have come to know and love.
---

Complete Book of Witchcraft
by Raymond Buckland
An excellent course in the practice of Wicca, Buckland has organized this book as if it were a textbook for a class. Written in easy to understand language, each chapter is followed by a section of exercises and questions. This book gives you a working knowledge of the history of Wicca, as well as a good working knowledge of its practice as a modern religion. Completion of this book is roughly the equivalent of being a Third Degree Initiate. An excellent foundation for anyone who is just beginning to walk the Wiccan path.
---
ANIMALSPEAK - Ted Andrews
Excellent book for anyone who is interested in connecting with their own personal Totem. Ted Andrews explains what a Totem is, why it's important, and how to find your own. Also given is a breakdown of many animals, birds, and other creatures listing their own special "medicine", characteristics, and relevance to humans as Spirit Guides.

---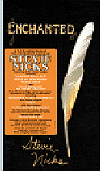 Enchanted
The Enchanted Works
of Stevie Nicks
A "must have" for any Stevie Nicks fan. This 3-CD Boxed Set of "enchanted music for enchanted fans" contains many of her solo hits, movie tracks, and some previously un-released demos, B-sides, studio tracks, and live cuts. Also included is a fantastic book of photos, some previously un-published, and the lyrics to each of the tracks in the set. By far the most exciting collection of Nicks' music to date! This version of "Rhiannon" is chilling, "Thousand Days" should be a single, and "Gold and Braid" is vintage Stevie. None of the tracks are "filler". All of these tracks could stand alone as singles, and many have. If you're a Stevie Nicks fan, or if you're just discovering her music, this collection could have been called "Stevie Nicks - 101". Stevie Nicks is indeed the reigning Queen of Rock, and just gets better with time.
Featured Selections

The Heart of Wicca : Wise Words from a Crone on the Path - Ellen Cannon Reed
Takes us beyond many of the currently popularized ideas and images related to the nature of Wiccan beliefs and practices. It guides us past the surface into a deeper understanding of the lifestyle, mind set, and religious dedication to spiritual growth that lie at the heart of this life-transforming practice. Reed tells us about life in a coven, training, rituals, initiations, finding a teacher, and spell-casting. Introduction. Reading list. Index.

WICCA:A GUIDE FOR THE SOLITARY PRACTITIONER - Scott Cunningham
Excellent book for Solitary Wiccans, beginner or experienced. Cunningham begins with the basics and moves forward from there, explaining candidly how to make Wicca a part of your everyday life. Aimed specifically at Solitaries, this is a terrific guide to have, and will prove to be very useful to those who do not practice in a group setting.
LIVING WICCA: A FURTHER GUIDE FOR THE SOLITARY PRACTITIONER
---
by Patricia Telesco
---

A Kitchen Witch's Cookbook
Banish the ordinary in eating forever with this cauldron of culinary magic. A Kitchen Witch's Cookbook combines over 300 carefully selected recipes with bewitching material to change your approach to cooking. Every morsel of information in this cook book has been compiled to accentuate the act of preparing magical sustenance for yourself and your loved ones!
Says the Author, "The kitchen stove or barbeque grill can become a unique way of having a fire festival any day of the year in your home. The hearth represents your home's heart, and each time you use it magically it can accent the energy of love in the home. This book is dedicated to that goal."

The Herbal Arts: A Handbook of Gardening, Recipes, Healing, Crafts, and Spirituality - "The Herbal Arts" explores over 100 herb plants with practicality, ease of use, and accessibility in mind. Its pages include a how-to section, herb lore, multicultural histories, aromatic culinary and craft hints, health and home applications, gardening tips, and spiritual insights.

Goddess in My Pocket: Simple Spells, Charms, Potions, and Chants to Get You Everything You Want - Stir your morning coffee counter-clockwise to reduce negativity or clockwise to jump start your day with empowering energy. Dust your shoes with charismatic cinnamon before you leave the house. This pocket-sized treasure trove of easy-to-follow spells, charms, potions, edibles, and rituals will delight and surprise every modern-day Goddess on the go.
Says the Author "This is a modern collection of pocket magic that takes into account our hectic schedules and the wonders of the modern home & pantry, and a good portion of humor in its construction. The key words here are fun, fulfilling magic!"

---

Lamp of the Goddess:
Lives and Teachings of a Priestess
by Rae Beth
It's good to sit with any of the goddesses from time to time. This is a book that really changed my mind about the darker energies. I actually used it on a healing retreat as a catalyst for healing dreams. It was a very interesting experience, and one that taught me not to fear the dark goddesses but to respect and honor them as well. - Felina
---

Everyday Magic: Spells & Rituals for Modern Living
by Dorothy Morrison
Brian Patterson of Amazon.com says, "Dorothy Morrison has a daring point of view that magic is not just compatible with technology--the two can actually help one another. Since technology has made our lives more productive, surely it can enhance our magic too. (Have you ever thought of making your herbal infusions in an automatic-drip coffeemaker?) Technological assistance with magic is only part of the story. Morrison has filled a grimoire with charms that protect from car trouble and ensure the safe and timely arrival of luggage while traveling, and spells to keep a computer from crashing, which makes life in the 20th century a little less harrowing. Rather than fighting the progress of the electronic age, Morrison has tapped into the wealth it has to offer, and she shares her discoveries with anyone adventurous enough to try them.
Magical Needlework : 35 Original Projects & Patterns Dorothy Morrison

---

Wicked:The Life and Times of the Wicked Witch of the West - Gregory Maguire
Have you ever wondered what actually went on in Oz? How did the Wicked Witch ofthe West become so wicked? Did she have a name? Was she really a bad person, or was she just misunderstood? Was Glinda really all that good, or did she have a few skeletons hiding in the closet? These and many other questions are explored in this brilliant novel by Gregory Maguire. This book will have you laughing, crying, and gasping in disbelief at the antics of these and many other characters. Once you've read this book, you'll never watch the Wizard of Oz from quite the same frame of reference. A must read for all Oz fans.